Advertisements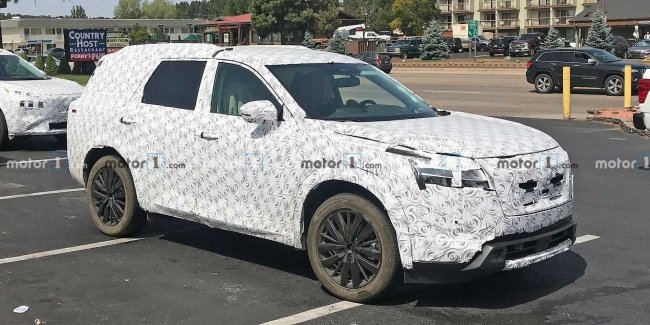 During the tests, a camouflaged prototype of the new generation of mid-size crossover Nissan Pathfinder was seen. Among other things, the " spy " images can be seen and updated interior.
A new generation of the Japanese Nissan Pathfinder crossover is on the way. This series of " spy " images is our first chance to see test prototypes of the long-awaited novelty. This time there are photos of the interior.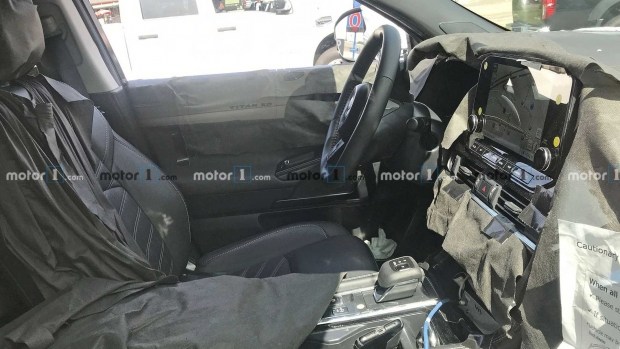 Compared to previous similar images, the false radiator grille of the new Pathfinder is slightly more noticeable. The outward-extending vertical parts suggest that the Nissan's V-shaped radiator grille is "stuck" around. The lower bumper can also be seen, and it has a simple horizontal design.
The big news is inside, where you can see the partially hidden interior. The designers redesigned the interior compared to the current Pathfinder. The infotainment system's screen has become much larger, and there's a bar of buttons right below it to control it. This arrangement forces you to move the vents below these elements. Masking hides the rest of the center console.
The console has a chunky gearshift lever. The electronic Parking brake is also visible.
Unfortunately, the angle of the photo does not allow you to see the dashboard well enough to determine whether it uses a digital display or not. However, the " spy " images of the next-generation Rogue Sport (or Qashqai in Europe) show an infotainment screen that is almost identical to the one captured here.
Nissan confirms that the new Pathfinder is among the brand's new models that will be available in the next 18 months. Current rumors suggest that it will go on sale as a novelty for the 2021 model year. The debut may happen before the end of the year.